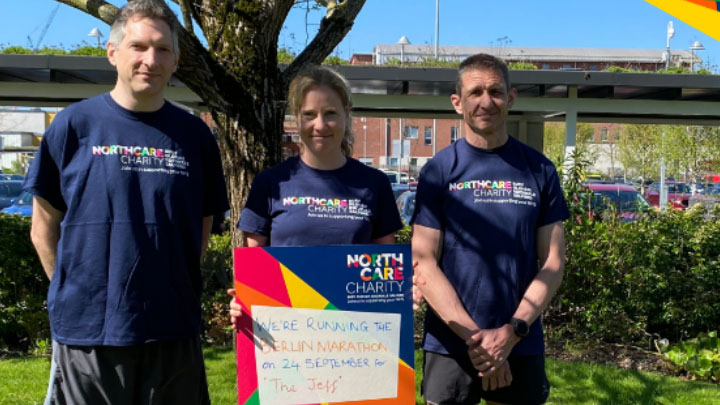 Neurosurgeons take on Berlin marathon for Northcare charity
A team of Neurosurgeons at Salford Royal Hospital are taking on the Berlin Marathon to raise funds for the NorthCare Charity, the official charity of Northern Care Alliance NHS Foundation Trust.
Dan Holsgrove, Julian Evans and Jane Halliday are all keen runners, who are taking on the challenge together for the first time, aiming to raise £2,250 for the Geoffrey Jefferson Brain Research Centre, 'The Jeff'.
Dan and Julian have conquered the Amsterdam Marathon and Jane is a triathlete who has finished the London Marathon, but Berlin will be a first for them all. Training is going well for the trio who are taking on approximately five runs a week of varying lengths in preparation of completing one of the fastest marathons in the world. A new personal best may be on the cards!
"I took on the Manchester Marathon in 2021, my first marathon, and I was sure it would be my last, but here I am!" said Dan.

"I'm looking forward to the challenge in Berlin, and it's great to be taking it on to raise funds for 'The Jeff'. The future of the Centre is research into rehabilitation, new drugs, parallel therapies and surgery alternatives, for those who have brain tumours or have suffered strokes. As a team, we're passionate about raising funds for these areas, which make a huge difference to our patients beyond the surgery we do."
Julian said:
"I'm an ultra-runner, used to running long distances, so Berlin will be a great experience. My son will be joining us which will be great, although I'm sure he'll disappear in front of me when the race starts!"
Jane very recently joined the Trust, starting in her role only four months ago but is ready and raring to take on her first fundraising challenge for NorthCare.
"We're delighted to be supporting Jane, Dan and Julian with their fundraising", said Jess Pollard, Community Fundraising Manager. "It's great that they have channelled their passion for running into making a huge difference for patients across Greater Manchester and the wider North West, highlighting the importance of brain research and having fun along the way!"

"The charity is here to support anyone who would like to fundraise for their local NHS, whether it's a sporting challenge, community event or anything else that takes your fancy. Get in touch with the team today, we'd love to hear from you."
The team will be heading to Germany for a three-day trip, running on 24 September. To find out more and support the team's fundraising efforts, visit their JustGiving page.