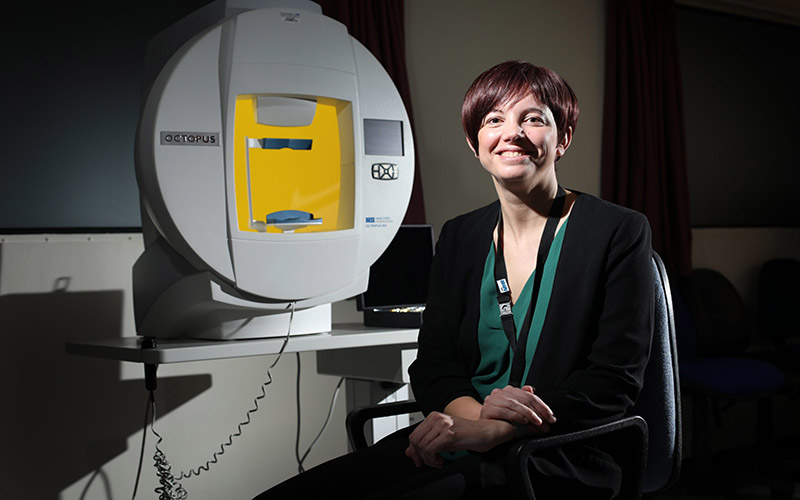 Dr Claire Howard awarded place on NIHR post-doctoral bridging scheme
Dr Claire Howard is a stroke/neuro specialist research orthoptist based at Salford Royal hospital, part of the Northern Care Alliance NHS Foundation Trust.
She completed an NIHR Clinical Doctorate Research fellowship in 2020 in collaboration with the VISION research unit at University of Liverpool. Her research explored how people adapt to loss of peripheral vision after stroke.
She has over 20 years' experience in assessing and treating post-stroke visual impairment in both acute and community settings.
She has recently been awarded a place on the HEE/NIHR post-doctoral bridging scheme where she will be continuing her research into visual loss after brain injury.
She will be exploring the area of 'blindsight' in collaboration with University of Liverpool vision research unit, University of Salford, the Geoffrey Jefferson Brain Research Centre, Queen Square Institute of Neurology (University College London) and the Nuffield department of clinical neurosciences (University of Oxford).
Blindsight is the ability to respond to visual stimuli without consciously seeing or perceiving them, a condition that can occur after certain types of brain damage including stroke and brain tumours.
Some researchers have trained blindsight to increase awareness in the area where vision has been lost. This blindsight training takes considerable time, is costly and is currently not available to patients in an NHS setting.
Dr Howard's research will explore the potential of carrying out blindsight training in an NHS setting, having potential to improve treatment options available to patients.
Congratulations Claire!