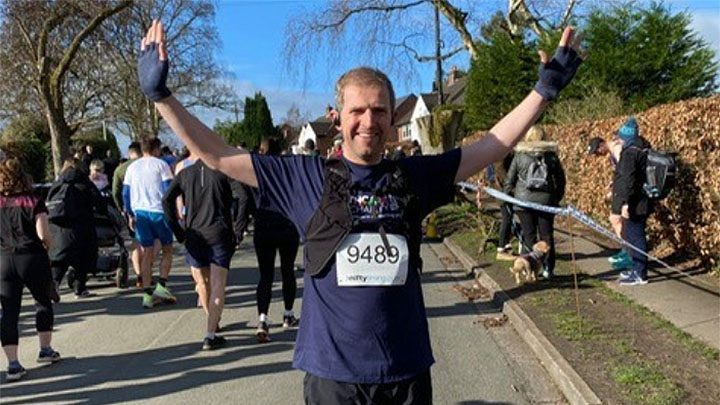 Stroke survivor runs again against all odds
When runner Paul Metham suffered a devastating stroke at just 37, his family were told that he would be lucky to survive – and if he did, he would not remember them, be able to speak or walk again. The dad of two had had a dissection of his carotid artery while out running, a tear in the lining in one of the main blood vessels carrying blood to the brain. 
But against all odds, and following a better outcome than was ever predicted, two years on he completed the Wilmslow Half Marathon on Sunday 26 March to raise funds for our Centre and is now on to his next challenge of running 5k a day in December.   
Paul received treatment at Salford Royal Hospital and was told a blood clot had gone into his brain. He was given medication to dissolve the clot but this was unsuccessful and led to a massive stroke and subsequent swelling of the brain. Paul underwent an emergency thrombectomy and a decompressive craniotomy and was operated on and cared for by Salford Royal neurosurgeon and Centre Strategy Lead Professor Omar Pathmanaban and his team.  
Paul, who has two young children, now 5 and 9 said,
"I am extremely grateful for the treatment I received allowing me to return to family life. The treatment and care I received at Salford Royal saved my life. If anyone was unfortunate enough to find themselves in the same position, I would want them to get the best treatment they possibly can, so it is important that we fund research to find new treatments and improve recovery for brain injury and other neurological conditions."
Paul's recovery continues and he is now under the care of the Salford Royal neurology services for treatment for post stroke epilepsy.
Paul Metham is fundraising for Northcare Charity (justgiving.com)