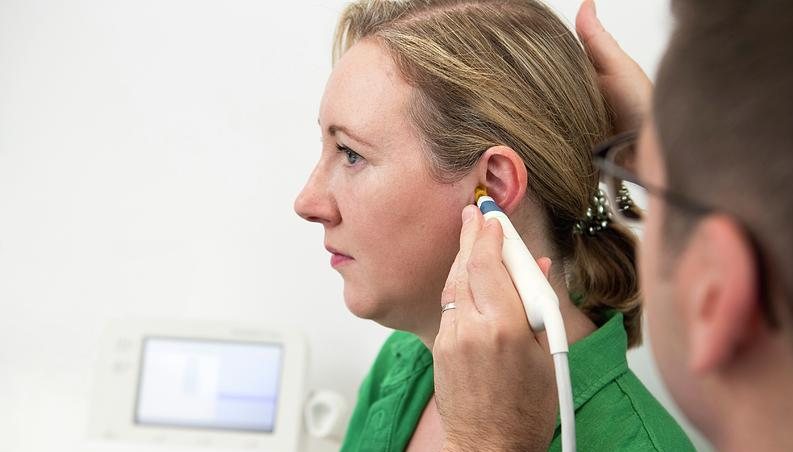 Study aims to help preserve hearing in people with vestibular schwannomas
A team of researchers from The Geoffrey Jefferson Brain Research Centre (GJBRC) have started a new pilot study looking at hearing tests for people with vestibular schwannomas (VS).
These are non-cancerous tumours that grow on the hearing and balance nerve and can cause problems such as hearing loss, ringing or other noises in the head (tinnitus) and loss of balance.
Researchers at the centre want to find the best approach for preserving hearing in people with VS. They are planning a clinical trial to discover whether actively treating VS upfront with a specialised form of radiotherapy called stereotactic radiosurgery (SRS), is more effective than not treating these tumours at this stage, with a 'watch and wait' approach using regular Magnetic Resonance Imaging (MRI) scans.
Before this, the pilot study of 60 patients will assess which hearing function tests are best to evaluate the potential benefits of SRS compared with the 'watch and wait' method, measuring the reliability of the hearing tests over time and whether repeat tests are accurate.
It is being led by Professor Omar Pathmanaban, Consultant Neurosurgeon at Manchester Centre for Clinical Neurosciences and Strategic Development Lead at GJBRC, a partnership between Northern Care Alliance NHS Foundation Trust, The University of Manchester and the Manchester Academic Health Science Centre. Talking about the study, Professor Pathmanaban said,  "This interdisciplinary study working together with the team of Professor Kevin Munro at ManCAD is an exciting step towards more patient friendly and real world hearing tests. This will help us determine the best way of protecting hearing in patients with tumours on the hearing and balance nerve"
The study is sponsored by Northern Care Alliance with participants' appointments at the Manchester Centre for Audiology and Deafness (ManCAD).